Earving Johnson, hijo del mítico jugador de los Lakers, convertido en referente LGTBI
GAYLES.TV.-  Magic Johnson es una de los mitos en la historia del baloncesto, no sólo para los seguidores estadounidenses, sinó también para aficionados de todo el mundo que lo recuerdan como una de las grandes figuras de Los Ángeles Lakers en los noventa. Uno de los integrantes  junto a nombres de la altura, nunca mejor dicho, de Larry Bird o Michael Jordan, que integraron aquel mágico Dream Team que deslumbró al mundo en los Juegos Olímpicos de Barcelona 92.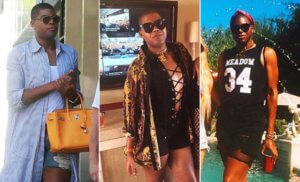 Pero hoy ha demostrado que su altura no es tan sólo física, sinó también moral y humana y lo ha hecho con su apoyo incondicional a Earving Junior, su hijo mayor, más conocido como EJ. Earving se hizo famoso participando en el reality show The Rich Kids of Beverly Hills y al perder 80 kilos. Además es un gay visibilizado y un autentico adalid en la lucha contra los estereotipos de género. Por todo ello EJ ejerce una influencia muy positiva en su más de medio millón de seguidores en redes sociales.
En la actualidad representa una famosa marca de cosmética y asegura sentirse muy feliz en su rol de icono de la revolución de género y en su manifiesta reivindicación del uso de maquillaje y prendas de ropa consideradas hasta hoy exclusivamente femeninas.
Su paso por The Rich Kids of Beverly Hills lo convirtió en referente para el colectivo LGTBI.  "Quiero ser la voz de todos aquellos homosexuales que necesitan un referente en televisión. Quiero ser un buen ejemplo para ellos", afirmaba antes de participar en el show televisivo.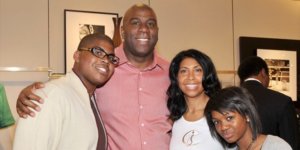 Y es que Earving ha tenido la gran suerte de haber recibido siempre el apoyo incondicional de su familia y quiere echar una mano a quienes no han tenido tanta suerte como él. Su padre, Magic Johnson en una entrevista en el show de Ellen DeGeneres declaraba hace unos meses: "Apoyo a mi hijo un millón por ciento. Esto es lo que él ha elegido y tengo que apoyarlo". Y añadía un sabio consejo para padres de homosexuales y lesbianas:  "Nunca intentéis que sean lo que tú quieres o crees que deben ser. Sólo hay que quererlos y que sean quienes quieran ser".
¡Gracias Magic, grande en la cancha y grande de corazón! Y todo el apoyo para EJ en su empeño por romper estereotipos y barreras.
Fuentes:   lavanguardia.com
GAYLES.TV
Televisión Online