Suited, un documental sobre los clientes transexuales de la sastreria Bindle & Keep y sus trajes personalizados
GAYLES.TV |  El impacto de la moda es innegable. Puede afectar la forma en que nos comportamos y nuestra comodidad en una situación social. Sin embargo, las opciones de estilo y la accesibilidad a las prendas de vestir afectan especialmente a la comunidad transexual y a la comunidad no conforme de género, como ejemplifica el documental Suited producido por Lena Dunham y que se podrá verse por primera vez en España dentro de la programación del Festival Moritz Feed Dog.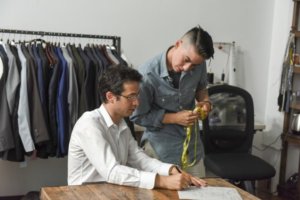 A menudo, las personas transexuales se esfuerzan por encontrar ropa que se adapte correctamente a sus cuerpos gracias a la naturaleza binaria de la mayoría de los minoristas. Es por eso que marcas como la neoyorquina  Bindle and Keep, sastrería por encargo para la comunidad LGBTQIA+, son tan increíblemente importantes. El documental Suited capta perfectamente la intensa y positiva emoción asociada con el uso de un traje que se ajusta correctamente. Comenta  Meg Zulch, crítico de moda con género disconforme, «He luchado durante años por encontrar ropa masculina que se ajuste a mi cuerpo femenino correctamente. Al igual que la mayoría de los transexuales, suelo ir de compras a las secciones de ropa de hombre de las tiendas al por menor, a menudo las prendas son demasiado grandes o no encajan en mi cuerpo correctamente. Así que cuando vi por primera vez Suited me conmovió profundamente».  
El director de Suited, Jason Benjamin, explica que su máxima prioridad en el proceso de grabación  fue captar el momento mágico del instante en que la prenda encaja en el espejo, un momento en el que mucha gente está viendo su verdadero yo por primera vez. Y esos momentos, capturados una y otra vez con múltiples clientes de Bindle y Keep, fueron la esencia de la película Suited.
Viendo a cada uno de los clientes mirarse al espejo en sus trajes a medida, se pueden ver años de dolor, la frustración, la disforia, la inseguridad, el resurgir y finalmente las lágrimas de alegría. 
[youtube https://www.youtube.com/watch?v=YW7bA683bYU]
El documental Suited, al que seguirá una mesa redonda, forma parte de la programación de la tercera edición del Moritz Feed Dog que empieza el 30 de marzo en Barcelona, y es el único festival de España dedicado al documental sobre moda. Otros de los documentales programados son Franca: Chaos & Creation, The 501® Jean: Stories of an Original, The First Monday in May, Out of Fashion, To Be a Miss, Dries, The Incomparable Rose Hartman, Peter Lindbergh – The Eye, Bangaologia y Model.