Con 4 nominaciones a los Oscar 2018, "Call me by your name" nos ofrece un espléndido canto a la vida a través de una historia gay sin dramas ni tragedia
GAYLES.TV.-  "Call me by your name" era un proyecto del veterano director James Ivory (Maurice, Lo que queda del día) que finalmente ha asumido la producción y la elaboración del guión. La dirección ha recaído en Luca Guadagnino, quien a través de imágenes sugestivas nos da una magistral lección de cine narrándonos la historia de una pasión a través de una cámara pausada, elegante y que sugiere más que muestra.
Basada en la novela homónima de André Aciman, la película nos habla del descubrimiento del amor, del primer amor, del arrebato que nos empuja a consumarlo y del dolor de su pérdida. Pero el valor de "Call me by your name" como film LGTBI radica en que no es una tragedia homosexual al uso, como declara uno de sus protagonistas, Armie Hammer a Vanity Fair: "Me encantó eso de la película. Nadie enferma, nadie es golpeado por campesinos sureños. Nadie es rechazado por su familia o por sus amigos. Nadie tiene que salir del armario y luego sufrir las consecuencias". Amar a alguien del mismo sexo no tiene porque ser una odisea imposible y el equipo de la película ha insistido en la tesis de que no se trata de un film queer, a pesar de que Luca Guadagnino sea abiertamente gay, sinó todo lo contrario: una obra fresca, sensual, exquisita que narra el encuentro entre dos personas y el descubrimiento del amor y el deseo indistintamente de cual sea su género o su orientación sexual.
La película viene avalada por cuatro nominacions al Oscar, que son las de mejor película, guión adaptado, actor principal por la interpretación del joven Elio a cargo de Timothée Chalamet y mejor canción original por "Mistery of Love" del indie Sufjan Stevens.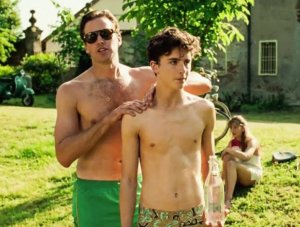 Pero es que aunque no llegara a alzarse con ninguna de las preciadas estatuillas, "Call me by your name" es una película de obligada visión, un lujo para los sentidos y la reivindicación de una serie de elementos preciosistas que recorren el film y que le son muy queridos a Luca: la erudicción  que salpica las conversaciones familiares de forma fluida e inteligente, la música que se erige en un protagonista más de la trama y el envolvente paisaje estival de una Italia sensual que impregna los sentidos a través de la pantalla. En resumen el hedonismo, el disfrute de la vida, el Carpe Diem de una década, la de los 80 llena de rupturas y reivindicaciones vitales.
Y es que lo único a lo que se enfrentan los amantes es al tiempo en todas sus formas, el de un verano que pasa demasiado rápido, el de la diferencia de edad entre ambos y el de los diversos momentos vitales… pero todos esos elementos no entienden de opción sexual,  porque el tiempo es algo que incumbe a todos los seres humanos, que a todos nos atrapa y nos empuja.
Podríamos destacar tantas cosas de esta película que no pondríamos fin al texto, pero merece la pena destacar el modo desprejuiciado en que se afronta la diferencia de edad, incluso el hecho de que Elio sea menor de edad y cómo esa diferencia no implica roles de poder o sometimiento, se trata sencillamente de mutua fascinación. Por eso acabamos con el maravilloso dialogo que da nombre al film: "Llámame por tu nombre, que yo te llamaré por el mío", porque hay que tejer complicidades para no dar explicaciones,  porque el verano es demasiado corto para hacerlo, porque sólo pesa la angustia de Elio interpelando a su amante "¿Por qué no me lanzaste pistas? (…) Hemos perdido tantos días".
Aquí tenéis el trailer y el videoclip de «Mistery of Love», la canción nominada y un consejo, no os la perdáis!
https://www.youtube.com/watch?v=1omjxrlquIE
Fuentes: lavanguardia.com, eldiario.es
GAYLES.TV
Televisión Online