Emma Nicholson, a member of the English Conservative Party, has criticized the "propaganda» from the Tate who has programmed the activity
La Tate Britain de London has scheduled an activity with the children's author Aida H Dee, who will read stories to children. The gallery describes Dee in his as a "Queer, Neurodivergent, ADHD Literature Hero" Y "the first drag performer of Europe in reading stories to children in a kindergarten«. has been featured in the magazine Forbes for being a neurodivergence activist and has recently been awarded as Local Leader of the Year in 2022 by PinkNews.
Emma Nicholson, a politician known for her controversial views, has written a letter to the chairman of the museum's board of trustees, ronald rudd, denouncing the institution's decision to invite drag queens to perform in front of children.
In this public letter, Emma Nicholson describes the scheduled appearance of Aida H Dee as "propaganda" and a "nonsense on stilts". Aida has his performance scheduled for next February 11 at the Tate Britain as part of LGTBIQ+ History Month. He is a member of Drag Queen Story Hour UK, a group that organizes storytelling and reading sessions for children between the ages of 3 and 11.
"Murderers, pedophiles, terrorists, stuffed animals and other fetishes"
Nicholson says in the letter:Having adults reading to children is a wonderful thing of course, but why does it have to be a man pretending to be a woman?. Nicholson continues his argument by comparing drag queens to "murderers, pedophiles, terrorists, stuffed animals and other fetishes".
Nicholson sign the letter as president of Children and Women First, a parliamentary lobby group that advocates for children and women, with a very clear focus on gender issues related to trans people.
The letter included a petition signed by about 3.500 people, which demanded that the museum stop alienating children in terms of gender ideology. The group Art Not Propaganda is responsible for writing the petition. It states that the Tate, being a state-funded institution, must answer to the public. Change.org has removed a similar petition posted on its website due to its discriminatory intent.
anti-LGBTIQ+ groups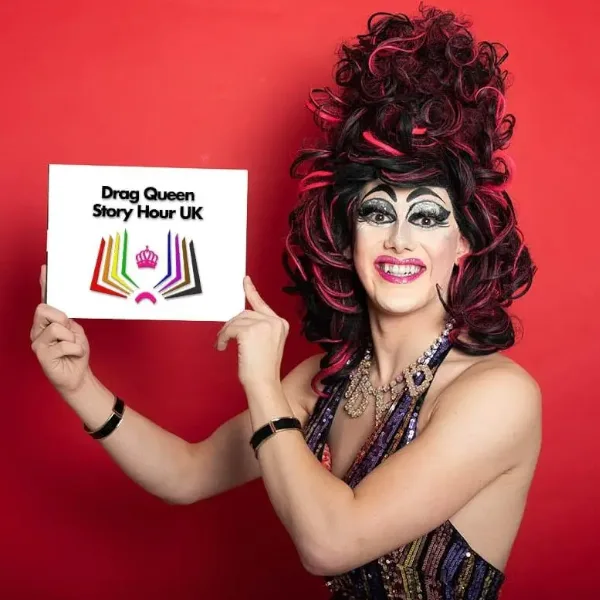 Not the first time Aida H Dee draws the attention of conservatives. The drag queen recently toured between 70 bookstores de United Kingdom. He was met with protests from groups anti-LGBTIQ+ who accused the artist of grooming (harassment and sexual abuse in networks). The police had to escort Sat Samuel, the name outside of Aida's drag, when leaving the place where he was. In an interview for pink news He said he was concerned about possible protests in the Tate, adding that the Tory government is responsible for the "queer hate running free in uk".
"The argument of the Baroness Nicholson of putting women and children first aligns with the far right who claim to put Britain first," it stated. francis williams, Head of Learning and Engagement queercircle, an art institution LGTBIQ + which has recently opened in London. She goes on to say that "a 'culture war' is being waged through our public institutions".
«We do not schedule artists to promote a particular point of view, nor to reconcile different points of view. Our galleries offer an extensive program and visitors are free to choose which aspects of the program appeal to them."said a spokesperson for the Tate.