Tashi Choden is the first public figure in her country to come out as openly lesbian.
Tashi Choden not only will she be the first candidate in history to represent Bhutan in the contest miss Universe, but he is also the only openly gay public figure in the country of Himalayas.
Bhutan is famous for his concept of Gross National Happiness, which promotes the well-being of its citizens more than economic growth. But until February 2021, homosexuality was considered by the criminal code as «sexual behavior against the laws of nature» and therefore illegal in this Buddhist country.
The coronation of Chods in June as Miss Bhutan It was, therefore, aGreat event» for this country of almost 800.000 inhabitants and for its LGBTI community. «Not only do I speak on behalf of the Bhutanese community, but I also speak on behalf of the LGBTI minority on a platform like the Miss Universe pageant. I can be your voice«He declared.
congratulations from the prime minister Tashi Choden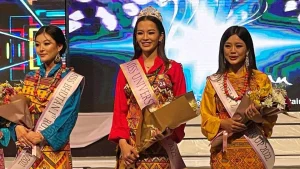 The 23-year-old, who lost her parents nine years ago, came out last year, in the international pride day. The announcement initially caused «a very strong reaction» by his family, conservative and religious, but Chods stresses that it was important that their relatives were part of this process: «Above all, your acceptance matters to me. After a while, they accepted it very well. And I'm very grateful for that, because a lot of people aren't lucky enough to have that acceptance.»
Despite some negative reactions, her win at the Miss Bhutan pageant seems to have garnered support in the country. The first Minister Lotay Tshering personally congratulated the young model and wished her success.
A hope for another youth
The candidacy of Tashi Choden a miss Universe is raising hopes among the country's gay youth. Seeing a lesbian woman become Miss Bhutan it allows the rest of the gay community to aspire to greater goals in their lives. This representation has paved the way for many young people.
In this atypical country, members of the LGBTI community denounce many cases of discrimination and social stigmatization. However, the decriminalization of homosexuality in 2021 has paved the way for further openness and community LGBTI It is gaining visibility little by little.