The #BOLLOMAMI campaign has projected the visibility of lesbians (cis, trans and non-binary) and has generated a significant social impact.
The lesbians, absolute protagonists of the Pride Barcelona 2022. For the first time Barcelona dedicates Pride to lesbian women under the motto Lesbians, visible and powerful! accompanied by the hashtag #bollomami.
The motor group of Pride Barcelona 2022, made up of cis, trans and non-binary lesbians from Famílies LGTBI, Acathi, Casal Lambda, Generem, LB Talks, Observatori contra l'Homofobia, STOP, BRS and Gender and LGBT Lab, is proud to have successfully completed this Pride Barcelona 2022 dedicated to lesbian visibility. "Lesbians are the hinge between the feminist movement and the LGBTI movement," she says. Maria Giralt-Castells, Director of Social Pride Barcelona.
Once the demonstration is over, and after a minute of silence in memory of the victims of Oslo, The manifesto was read by the members of the main group, Montse Mota, Núria Becerra, Mariajo Espina, Beli Klein, Laura Pi, Laura Jiménez, Thael, Lina Mulero and Maria Giralt.
Manifesto Pride Barcelona 2022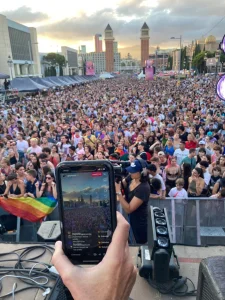 Lesbians, dykes, dykes, areperas, truckers... the women we love and have sex with other women, whether we are cis women, trans women, or non-binary, celebrate this year the Pride of lesbian identities.
And why a Pride dedicated to lesbians?
Because lesbians are still victims of lesbophobia and suffer aggression for holding hands on the street and kissing on public roads.
Throughout history, sexual desire between women has been denied, prohibited, repressed and made invisible due to the phallocentrism of the patriarchal system. This when we have not been "killed" or "suicided" throughout all of universal literature and much of the history of cinema.
And you know what? We are already fed up!
The sum of patriarchy, which emphasizes the inequality and violence suffered by women in society, together with heteronormativity that causes structural violence making non-normative practices invisible, results in lesbians being doubly discriminated against, as women and as lesbians. And triple or more if you are a trans lesbian, racialized, elderly, migrant, with a non-normative gender expression or with functional diversity.
And because we are invisible despite heading the LGBTIQA+ acronym!
… But we exist and we are many!
We are around you, we are your neighbors, the doctors, the teachers, the educators, your bosses, the players of your favorite team, the supermarket cashiers, the mothers who take their daughters, sons and daughters to school, we are everywhere , but you may not want to see us. To do so would be to recognize each other. We don't like labels, but they are necessary until this recognition is real and effective.
The lesbian label makes us free, powerful, fighters, brave, rebellious, daring, enterprising, adventurous, independent, and yes, it also makes us Amazons, because the different lesbian identities directly attack the marrow of patriarchy, blowing up any attempt to appropriate our bodies, our lives.
We disobey the patriarchal system by the mere fact of existing, often without being aware of it, and this disobedience leads us to self-management, solidarity, sisterhood and the search for new social structures that make us all freer.
Someone will say, "but if lesbians can already get married and have children, what more do you want?" Well, we want real equal equality.
Because lesbians still do not have guaranteed access to assisted reproduction techniques within the state health system. And in Catalonia, where it is, the process of assisted reproduction is too slow.
Because if lesbian couples are not married, we cannot register as mothers of our children, whether by direct affiliation or by adoption, unlike heterosexual couples in the same situation.
Because LGTBI families, made up mostly of lesbians, do not have freedom of movement throughout the European Union since there are EU countries that do not recognize our rights. In this sense, we demand a binding resolution so that the rights of our families are recognized throughout the European Community.
Because the medical and gynecological care protocols are not adapted to lesbian women. Nor are we informed of the protection methods for women and other people with a vulva when having sexual intercourse. There is a need for awareness and training of health personnel, especially primary and gynecological care.
Because affective-sexual, gender and family diversity is not yet implemented in the training and information programs conducted in all educational centers or in the workplace.
And let's not forget the right to asylum in the Spanish state for lesbian women who suffer multiple forms of violence due to their sexual orientation and gender identity in their countries of origin.
For all this, lesbians, whether we are cis, trans or non-binary, ask for the approval of the State Law on LGTBI Equality and the effective implementation of Law 11/2014 to guarantee the rights of LGTBI people. And also the approval of the Trans Law, which directly affects many of us.
And yes, lesbians, dykes, tortilla makers, areperas, truckers... and bollomamis, we want to change the world, because in addition to being lesbians we are feminists, environmentalists, animalists, and we are the Amazons who defend our Earth, our forests, rivers and seas. And we want it all!
We invite each and every one of you to join us!
This manifesto is dedicated to our colleagues Joana Barrafont and Mar Llop, who have left us this year, but also to Maria Mercè Marçal, Gretel Ammann, Jennifer Quiles, Maria de Carmen Tovar "Daniela" and to so many lesbian women who have bequeathed us their work imbued with their desire and love for women.
(...) Dins la pell de l'ona salada
we will be five hundred, we will be a thousand.
We will lose the compte to the tombada.
Together farem nostra la nit.
(Excerpt from "Cançó de fer camí" by Maria Mercè Marçal)
And since we know you will ask us about the music in the video, here it goes: Chocolate Remix Lesbian Reggaeton – Como Me Gusta A Mi.