In the case of the Trans collective, 70% of women do not have a job, which is 40 points more than the rest of the population
El 69,6% of LGTBI people from Palma de Mallorca They have suffered discrimination because of their sexual condition. This percentage increases until it reaches 81,81% in the case of trans people. These are the main conclusions of a study carried out by the entity Ben Amics, with financial support from Palma City Council in which they have participated 280 people of the collective
jan gomez, VP Ben Amics, has stated that it is aware of the study limitations, since it has been able to leave out the elderly and that the majority of those who have responded to the survey are young and educated. Despite this, he has considered that it is «of a representative sample of the opinion and situation of the collective in our city» which, in addition, has the advantage of. be the first study or diagnosis that is made of Palma de Mallorca.
The results of the study have put on the table «alarming data» since it is found that the 70% LGTBI people claim to have suffered discrimination at some point in their lives due to their condition and, furthermore, in 50% of cases they have suffered it in Palma de Mallorca.
Discrimination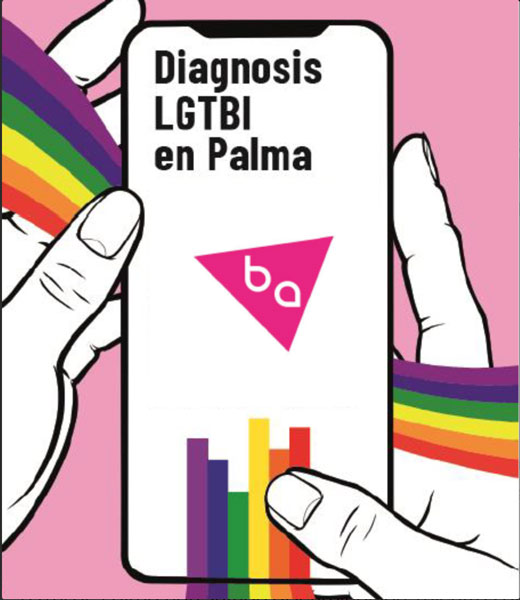 It is also revealed that 20% of the trans people they stop carrying out bureaucratic procedures, such as renewing the registration, the citizen card or the intermodal card, because they do not have to suffer discrimination due to the lack of sensitivity or training on the part of certain public officials and due to the inadequacy of the administrative forms that often do not recognize the different types of family for gender determination.
Furthermore, 52,8% state that they have suffered bullying. At the labor level, a third of Trans women are without work.
The diagnosis also reveals that very few complaints are filed regarding situations of violence and discrimination that they suffer (barely a 10% ), since many of them occur in close environments, work and even family. In this regard, it has considered that the reception area for people LGTBI mistreated can be a boost to change this situation.
Future LGTBI Center
One of the conclusions of the initiative highlights the lack of Palma de Mallorca of places for socialization and has announced that it hopes that before the end of this mandate, its department will have approved the bases for the management of the future LGTBI Center that will be installed in flassaders which, in principle, will be open to the entire population and will serve, among other things, as a meeting place for the elderly in the group.