The future Trans Law aims to end the pathologization of transsexuality and will include the self-determination of gender
GAYLES.TV.- El Ministry of Equality has made an email available to citizens to receive contributions about the future Trans Law. In [email protected] contributions can be made until next time November 18th. It is part of the public consultation prior to the elaboration of the Trans Law who has carried out the ministry of Irene Montero. The future law aims to end the pathologization of transsexuality. In addition, it will include self-determination of gender without the need for a medical report or undergoing treatment to change physical appearance.
Equality recognizes that 3 / 2007 to allow trans people to rectify their registered sex without the need for surgical treatment of genital surgeries was a pioneer and supposed «a substantial advance", But he believes that it is necessary to go one step further to equip itself with international standards. That rule does not allow minors to request registry rectification and requires proof of «gender dysphoria»By means of a medical or psychological report, in addition to undergoing treatment for at least two years to accommodate the physical characteristics of the claimed sex, so that transsexuality continues to be treated as a disease.
Historical discrimination
According to the Ministry, eight autonomous communities have already guaranteed the right to gender self-determination of people who manifest a gender identity that does not coincide with the sex assigned at the time of birth. The goal is to end a «historical and systematic discrimination towards this group«. In this sense, the document with which the public consultation is opened highlights the Article 14 of the Spanish Constitution that guarantees non-discrimination of transsexual people and the Article 9 that orders the public powers to eliminate obstacles so that this equality is real and effective.
? The public consultation process prior to the elaboration of a normative project consisting of a law for the full and effective equality of trans people is already active. #OctoberTrans 🇧🇷

✍️? Contributions until November 18??
? https://t.co/LFvY0AkuDV pic.twitter.com/77uBhjBYUl

- DG Sexual Diversity and LGTBI Rights (@LGTBIGob) October 30, 2020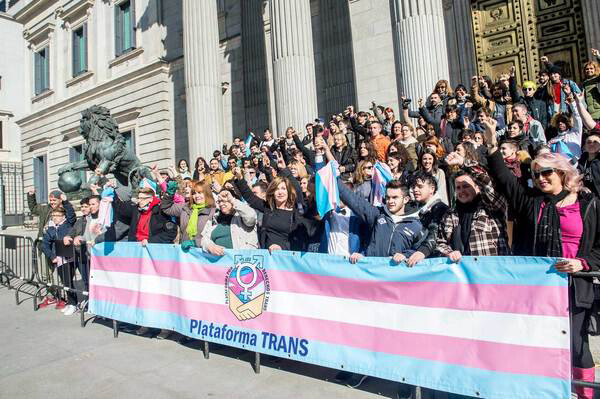 Source: Public, The Courier, Ministry of Equality
Photograph: Gayles.tv