The queen of pop has shared an original clip that has sparked speculation about her sexuality
Singer Madonna posted a video on TikTok that has left everyone confused. The singer has undergone a challenge on the social network in which she shared with her followers: "If I fail, I'm gay". It is about throwing an object into a bucket and seeing if you hit it or not. In this case, she has decided to throw on some pink panties and fail. Deliberately?
The singer, 64 years old and mother of six children, has caused this gesture to lead to many conjectures among her followers. Now everyone wonders if it is a joke by the artist or a way to openly tell about her sexual condition.
After the publication of the video, some American media have not been slow to comment on it, such as the portal TMZ, who has pointed out that "at first sight Madonna It looks like she could come out as lesbian, or at least bisexual, but it's hard to say for sure.".
Madonna seems to come out as gay in new TikTok. pic.twitter.com/XT12wnMCbF

- Pop Base (@PopBase) October 9, 2022
Madonna & Tokisha
The queen of pop broke up, three months ago, with her boyfriend Ahlamalik Williams, 28-year-old dancer, after three years of relationship. Shortly after, during New York Fashion Week, the singer was seen kissing the rapper. Tokisha when they did a collaboration on the theme "Hung Up on Tokischa".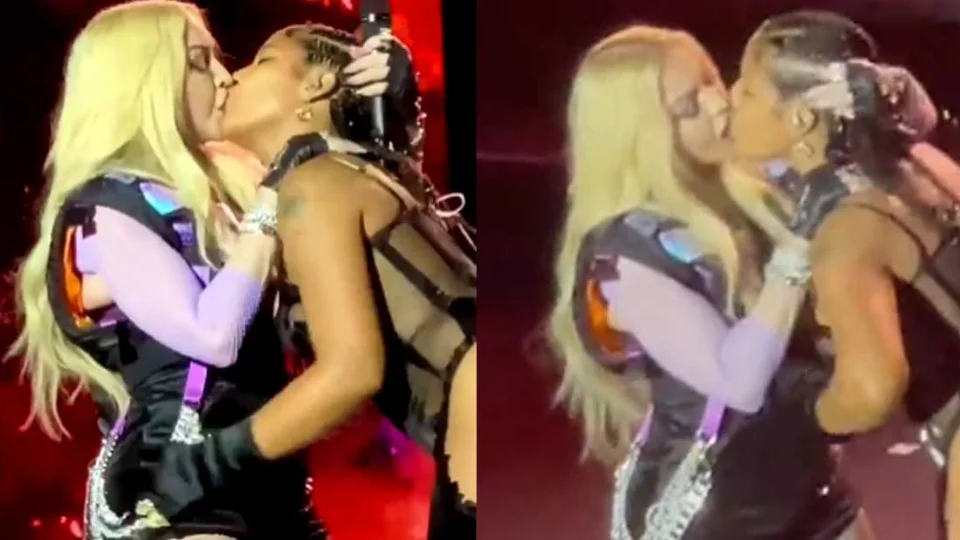 For her part, the 26-year-old Dominican said: "As soon as we met, because it's Madonna, you know, is someone who has expressed himself all his life, without caring about anything. In fact, that's what I do too. It was instant, we connected immediately. We were doing this together and rehearsing for the show and talking all the time, so we got really close.".
Everything came so naturally, that when he least expected it they were already kissing. "It was so natural for both of them. We just kiss, like we're talking... It's not something that's, like, 'Oh, we're so sexual...' It's more of a vibe, our connection." and when asked if he was in a relationship with Madonna, the star clarified that "No, we're just friends who kiss. His breath smells so good! I made a song that talks about how I have a best friend and we kiss. After doing that song, all my fans expect me to kiss them. How am I going to tell them no? They are my fans, they are literally there to see me. The least I can do is hug or kiss them. I love getting close to my fans when I'm on tour. That's my favorite part.", concluded Tokisha.
again, @tokischa_ y @Madonna were seen together, now in #New York during fashion week and more affectionate than ever. Will a collaboration or new romance be forthcoming? ?? pic.twitter.com/MpcGTgcB7l

— HipHopDX Latam (@HipHopDXLatam) September 12, 2022
In the past, Madonna sparked controversy by kissing other music greats like Britney Spears and Christina Aguilera during the editing of 2003 of the MTV, and later he returned to kiss the interpreter of "Toxic" at his wedding with Sam Asghari last June.
In fact, to the interpreter of "Material Girl" He has been linked on several occasions with other women, such as the model Jenny Shimizu and with Ingrid Casares, Among others.
the video in TikTok of the singer has only rekindled doubts about the sexual condition of the artist who enjoys playing cluelessness with her followers.