"The last row" is a story of loyalty, love, union and respect between women
There are trips that change your life forever. There are lives that travel changes forever. "The ones in the last row" tells the story of five women in their thirties, close friends since school, who every year without exception organize a week-long getaway together. This year, the circumstances of this trip are special and different because one of them has just been diagnosed with cancer.
Daniel Sánchez Arevalo directs this fiction, produced by Atypical Films for Netflix which has 6 episodes and was recorded in various locations in the province of Cadiz y Madrid. The narrative structure is as perverse as it is effective: the series will not reveal until its end which of its protagonists is sick.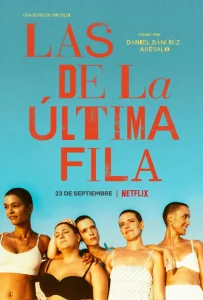 In "The ones in the last row", Sara (Itsaso Arana), Alma (Mónica Miranda), Carol (María Rodríguez Soto), Leo (Mariona Terés) and Olga (Godeliv Van den Brant) decide to go away for a week Cadiz to meet together the secret challenges that they have written and kept in a little box. They intend to do what they have never dared to do and push their limits.
The script begins with fairly stereotyped characters, although as it progresses it discovers particularities of each girl that gives them a little depth.
Among the friends is Alma, an influencer who has a girlfriend with whom she was planning to get pregnant through the ROPA method. She came out when she was a teenager, and her friend Sara, now married to a man and mother of a girl, was the one who gave him his first kiss, that kiss that would help him confirm if it was true that he liked girls. The lesbian plot is guaranteed.