"Boulder" it becomes the first novel written in Catalan to compete for the Booker Prize
The novel "Boulder"of the writer and poet Eva Balthazar (Barcelona, 1978), is one of the shortlisted for the award Booker 2023, becoming the first title in Catalan that opts for the distinction since its creation in the year 2005, as reported Publishing Club. The novel, starring a woman who seeks to be alone, was conceived as the second part of a trilogy on misanthropy that completes "Permafrost" y "Mammoth".
"Boulder" tells the story of a lesbian woman who craves solitude and embarks as a cook on a merchant ship to lead an independent life, without material or emotional ties. She until she falls in love with her and another woman gets her to leave the provisionality and settle in an apartment. Then come the permanent job and a pregnancy that, although desired, makes everything jump into the air.
Published two days before the confinement, the March 12th 2020, the book became a small phenomenon during the months of confinement and surpassed the 20.000 copies sold in Catalan. It has been translated into Spanish, German, English, French, German, Greek and Danish. In Catalan the public Publishing Club and in Spanish Random House.
Translated by Julia Sanches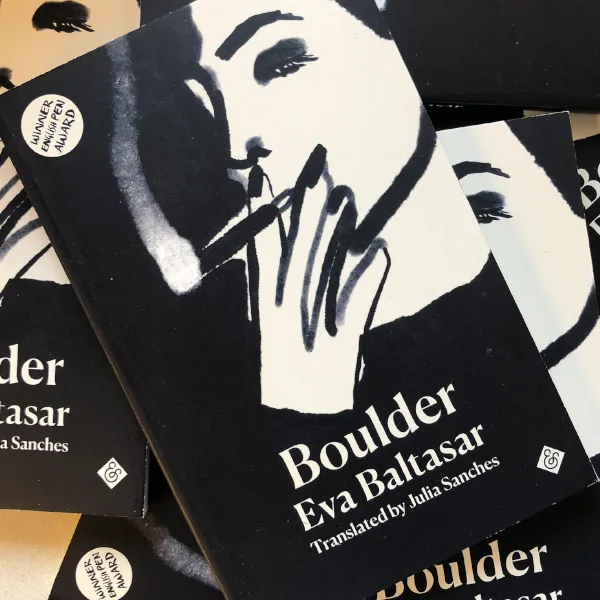 He has translated it into English Julia Sanchez, and has been published by the London publisher And Other Stories. The award Booker International is endowed with Libras 50.000 for the winning book, shared by author and translator.
Balthazar and Sanches will compete with twelve other novels by authors such as Laurent Mauvignier, Guadalupe Nettel, Vigdis Hjorth, Andrei Kurkov, Maryse Condé, and Cheong Myeong-Kwan.
In previous editions several Catalan authors who write in Spanish have been finalists, among them Enrique Vila-Matas, Javier Cercas and Juan Goytisolo. The prize list includes authors such as Han Kang, Olga Tokarczuk, Marieke Lucas Rijneveld, Lydia Davis, Philip Roth, and Laszlo Krasznahorkai.
The short list of nominees will be made public on April 18 and the winner will be announced on May 23 in an act in the London Sky Garden . The award seeks the best international work of fiction translated into English, selected from among those that have been published in the United Kingdom or Ireland between May 1, 2022 and April 30, 2023.