At least three arrested for the incidents registered on Saturday between protesters for and against the rights of transsexuals
The Australian authorities have announced this Monday that they will ban the Nazi salute in the region of Victoria, the second most populous in the country, as a result of the altercations carried out by ultra-rightists in Melbourne against a march in favor of the rights of the trans collective. Police arrested at least three people for the incidents on Saturday.
The attorney general of the region Victoria, Jaclyn Symes, has indicated that he will propose expanding the law that prohibits the Nazi swastika in the region from 2022 - under prison terms - to also punish the Nazi salute. «We are carefully studying how to do this, in consultation with various groups, and will have more to say on the details of this legislation as we do so.", the prosecutor specified in a statement released on social networks.
To be approved, the proposal must be ratified by the parliament of this jurisdiction, where both the regional government and the opposition have already shown themselves in favor of the reform. On Saturday, between 20 and 30 Australian neo-Nazis gave the Nazi salute in front of the regional parliament, in the center of Melbourne, where they went with the aim of boycotting a peaceful march in favor of the rights of trans people.
Nazi salute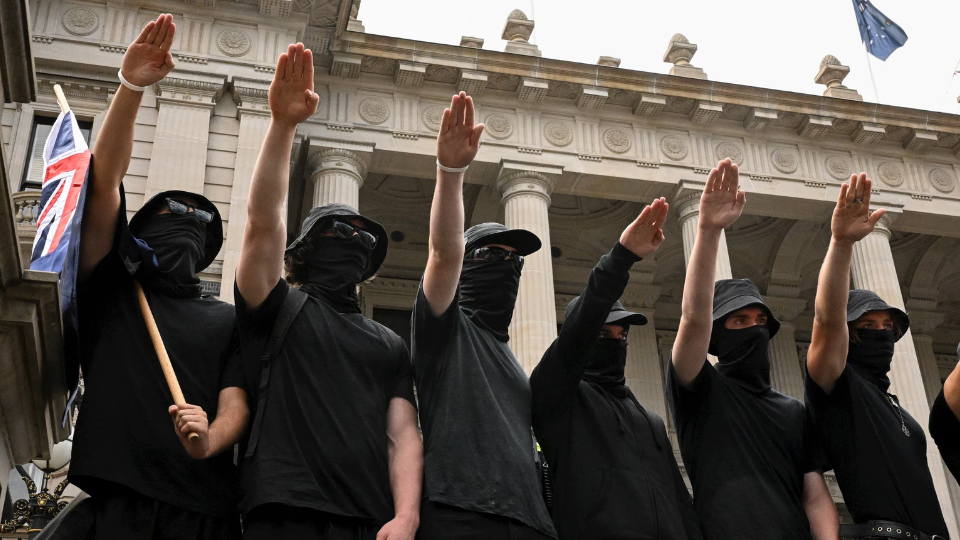 extremists of far right verbally clashed with other protesters who were on the scene to defend the rights of trans people, forcing the Victoria Police to form a cordon to avoid further altercations.
Following the incidents, law enforcement arrested at least three people, including a woman who assaulted a police officer. «The behavior we have seen was disgusting and cowardly. It is clear that this symbol has been used to incite hatred, not only against the Jewish people, but also against our community. LGTBIQ + and other minority groups", condemned the prosecutor.
In addition to neo-Nazis, other small conservative groups also spoke out against transgender rights, including the regional parliamentarian moira deeming, who yesterday was expelled from Liberal Party for joining these protests.
In July 2022, Victoria became the first Australian jurisdiction to ban nazi swastika.