The leader of the extreme right takes advantage of the motion of no confidence to fill Congress with hoaxes
Santiago Abascal has focused its interventions on the motion of censure against Pedro Sánchez to attack the Government. The leader of the extreme right has deployed his post-truth strategy to criticize the feminist and LGTBI politics with hoaxes and half truths.
Abascal has accused Sanchez of being the "responsible for the fact that being a woman no longer means anything, because it is acquired by the simple will of the individual" and has invited you to "go to the civil registry and express your hatred of testosterone", as part of his usual conglomerate of criticisms that mix gender violence, trans law, rape and even sports competitions.
"Some of the rapists they have released when they rape again and are arrested will ask to be admitted to women's prisons and there they will rape again", has maintained the leader of Vox no blush. The law does not allow the change to be carried out with the aim of avoiding a conviction for gender violence, nor is a hypothetical sex change applied retroactively, but the truth does not matter much when you have a tremendous loudspeaker to spread hoaxes.
He has also blamed Sanchez of the release of rapists and pedophiles in application of the law of the only yes is yes and has come to qualify as "degenerate" to community rights activists LGTBI. "We will also ask them to account for the boys and girls whom some organizations, in many cases of subsidized degenerates, confuse so that they end up mutilating themselves and making irreversible decisions in their bodies and minds."He said.
pregnant hoaxes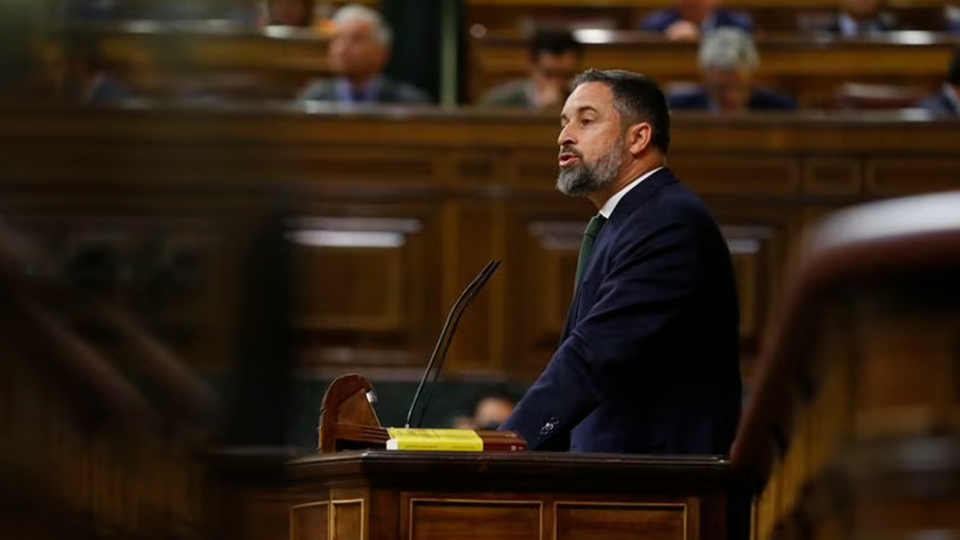 "There are almost no mothers anymore, for their government, because they prefer to call them pregnant parents", he blurted out from the rostrum abascal, an argument used before by nunez feijoo, president of the PP, absent on this motion. The reality is that the text does not replace the word "father" by "non-pregnant parent", as they claim. The norm does modify the Civil Code to include the terms "pregnant parent"And"non-pregnant parent", which will coexist with the words "mother"And"father" to include both trans people who have the capacity to gestate and homosexual people who have children.
"There is no longer justice for women in sports competitions", has added. The situation of the trans women in sport It has not changed one iota with the approval of the new law, despite the fact that it has become one of the favorite hoaxes of the extreme right.
Abascal has promised yes Vox governs will repeal "all the laws" that have come out of Ministry of Equality So what "they denigrate women and erase all their nature".